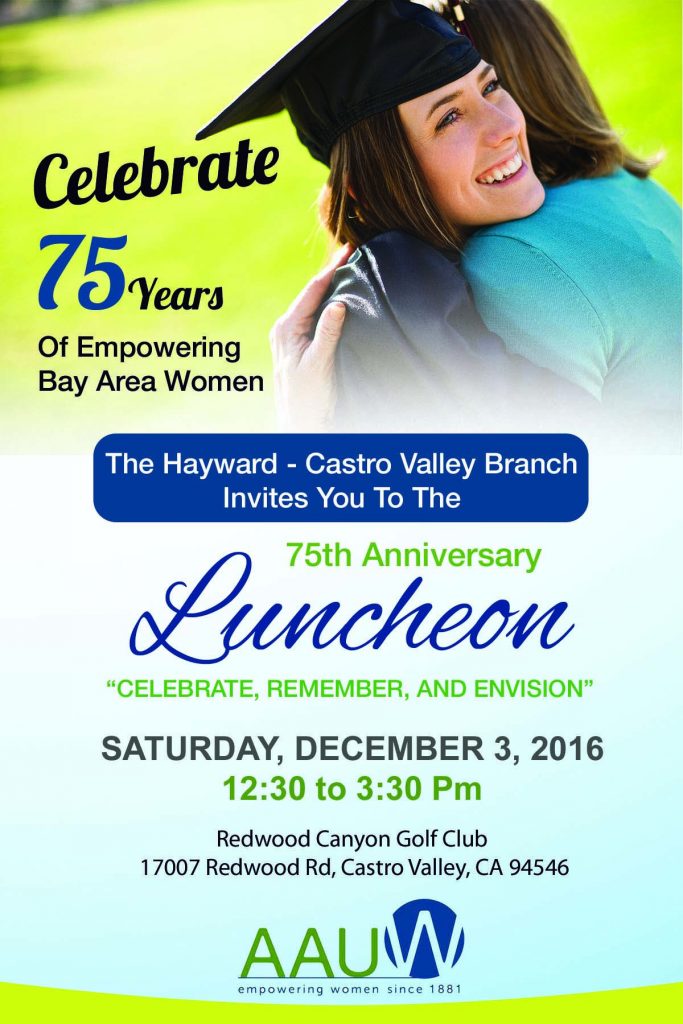 The AAUW (American Association of University Women), Hayward-Castro Valley Branch invites you to celebrate our 75th Anniversary. Since 1941 our branch has proudly promoted our mission to "Promote equity for women and girls through advocacy, education, philanthropy and research" throughout the cities of Hayward and Castro Valley.
Reservations: $50*.
Tickets may be purchased online via PayPal. Reservation deadline is November 22, 2016. Tickets going fast, don't wait! No ticket sales at the door.
Bring an unwrapped child's gift to support the Davis Street Community Center.
Collaborating with State and National AAUW, the League of Women Voters of the Eden Area, the Hayward Area Historical Society, the Friends of the Libraries in Hayward and Castro Valley, and the City of Hayward we have raised funds, moderated community forums, and volunteered support to programs like Tech Trek, a summer camp for incoming 8th grade girls; voter registration and public information; sexual assault on campus; human trafficking; legal advocacy for women experiencing discrimination in academia and employment; scholarships for local college women; and women in history events in local schools.
Event Schedule:
12:30 Networking & Musical Interlude with Erica Messer, Harpist
1:00 Buffet Luncheon
2:00 Presentations
2:30 Networking & Celebration till 3:30
Information about our branch is available on the agency's website at https://hcv-ca.aauw.net or on our Facebook page at https://www.facebook.com/AAUWHCV/
We look forward to seeing you there. Hayward Castro Valley Branch of AAUW thanks you for celebrating our 75th Anniversary with us. For more information, or if you would like to pay by check please contact Linda Slater at hcv.ca.aauw@gmail.com for the mailing address.
*$20 is a tax deductible donation to AAUW Funds.


Tickets
Menu Choice
Thanks $20 to go to AAUW Funds